Customizing the Work Order
How do I add, edit or delete custom fields?
Did you know that you can add a custom work order field? It's super easy to do, and can help to remind you of other inspection details, such as 'Who's Paying/Payment Method'. In this example, we will create this field.
To create one:
Go to Profile and under Administration > Add Custom Items.
Click Inspection Type and Fee.
Click Add New.
In the Title field, type Who's Paying/Payment Method or your desired field name.
You can also insert Default Text to appear in the box if desired, or you can leave it blank.
The default Textbox height is 20 pixels. You can also change the background color.
Once you're done, click Save and Back.
That's it! Once you go into a work order, you will then see it on the panel for Inspection Type and Fee.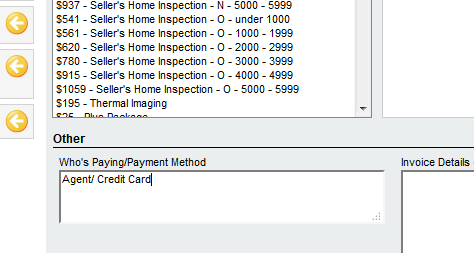 Note: If you are using Online Payment Processing, you will not use this field in most cases as it will track the online payment in the work order automatically! For more information on setting up your Horizon account with our partner, Guardian Financial, visit https://smallbizguardian.com/carsondunlop/.