We've recently been noticing that inspectors have been purchasing additional subscriptions for their company. For inspection teams of two or more, we recommend to turn on the 'Who's closest' feature via the Horizon Profile.
Why?
With this feature activated for all your Inspectors, it will show you if the closest inspector is assigned to the job. As a company admin, you can choose whether to keep the job assigned to the original inspector or reassign it to an inspector that is closer, via the Work Order.
How to turn it on:
Logged in as the company admin/owner, visit the Horizon Profile.
Go to Inspectors > Manage.
Click on the first inspector in the list.
Set their Home address. (Fig. 1)

Fig. 1

Click Save and Back once complete.
Repeat for each inspector within the organization.
Tip: If you do not set the Home address for one of the inspectors, it will list them as 'Unknown' in the Who's closest list.
Once enabled, when you are on the Scheduler screen you can right-click on a work order followed by 'Who's closest'. (Fig. 2)

Fig. 2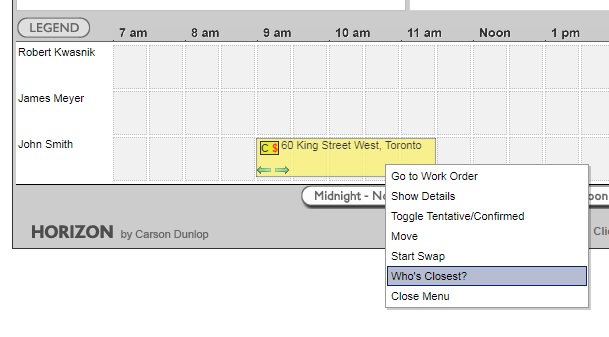 You can then see which inspector is closest in proximity to that inspection address. (Fig. 3)

Fig. 3
We hope this tip helps your business cut down on mileage costs & increases your productivity.