How do I export my data?
One of the most useful business tools in Horizon is the ability to export and produce all sorts of reports to help you keep track of your business activity, measure performance and plan marketing strategies.
These are flexible reports that are exportable to Excel, so you'll be able to manipulate the data however you choose.

In Horizon, there are 5 types of data exports:
Export Clients
Agents
Agent Usage Info
Work Order data
Report data

Exporting Information

It is extremely easy to get a quick listing of all the clients you have done business with in Horizon.
This data is taken from the work order, and is accessible with a single mouse click form your Profile.



Click on the link that says Export Clients Here for example.
This will open a new window that asks if you would like to open or save the Excel report to your computer.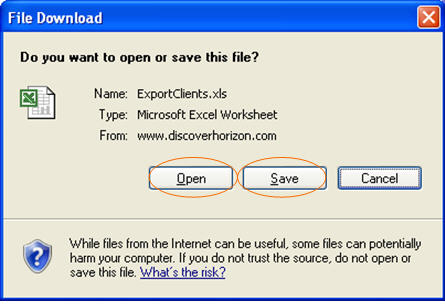 You may save the report to your desktop for viewing later by clicking Save, or view it immediately by clicking Open. You may also click Cancel to abort this process.

Note: Some browsers secure or disable the 'Open' option. It is recommended you click "Save" then open files from your computer.