The Yellow Exclamation Point replaced with combo-boxes
We've removed the exclamation point symbol

and corresponding pop-up window from the Work order and Report publishing screens. This button has served Horizon well for many years, but it is time to replace it. Example may be found below (Fig. 1)
Fig. 1

It is replaced with a new tool called combo-boxes. Click inside the boxes to see the list. (Fig 2).
Fig. 2

More flexibility!
This new feature allows you to type your own text into boxes. They are not just dropdown lists anymore. You can enter whatever you want on the fly.
It also has auto-complete so it will recognize any list item as you start to type. For example, if you have a list of 40 towns that you work in, you can just type in the first few letters and it does the rest. Faster than scrolling through long lists!
Note: You can also modify one of the options after it has been selected. (Fig. 3)
Fig. 3

Note: If you want to see all options available in the list again, delete the text in the box.
The drop down will show all available options when you place your cursor into the input text box.
Fig. 4

Below is an additional example on the Contract screen in the work order. To use it, click in the text box field to pull up the available options, then select the one you would like to use. (Fig. 5)
Fig. 5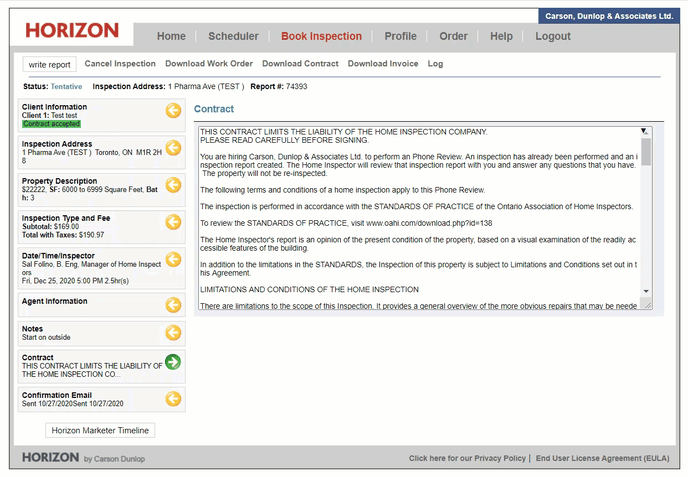 Note: If you unintentionally pick the wrong one from the contract list, click outside of the textbox then click inside of it to bring up the list again.
To add new entries to these lists, please go to Profile > 2. Administration > Text Options > Settings.
Note: From there you can also add additional options for Confirmation e-mail types, Cover Letters, Contracts etc.
a. There are two on the Client Information screen all for City.
b. There is one in the Inspection Address screen for City.
c. There are two on the Property Description screen for Price and Square Feet.
d. There is one on the Notes screen for pre-set notes.
e. There is one on the Contract screen for various contracts.
f. There are four on the Confirmation Email screen for:

BCC emails / Reply-To override email address / Subject line of email /Body of email

g. There are two on the Book an Inspection screen under Referred by Other end Booked by Other
h. On Report Publishing, there is one each for Edit Cover Letter, Contract, Report Delivery Email Subject, Report Delivery Email Body, Reply Link Email Reply to, TREC Additional Info
i. On Report Publishing, Edit Summary there is one each for Intro, Intro Web link, Text for Intro Web Link, Conclusion, Conclusion Web Link, Text for Conclusion Web Link

To recap,
Combo boxes replace the Yellow exclamation
Auto-complete saves you time
Allows you to pick from existing selections or type custom notes
Remember to Delete existing text to choose available options again
That's it! If you have any questions, please submit a support ticket at https://support.carsondunlop.com/kb-tickets/new.
Best Regards,
The Horizon Team