If you receive a Conflict Detected error in Horizon, this indicates that there are 2 bookings scheduled for the same time. To correct this, please follow these steps:

1) We booked this inspection without looking at the Scheduler, and Horizon is telling us we have double booked ourselves. (Figure 1)
Figure 1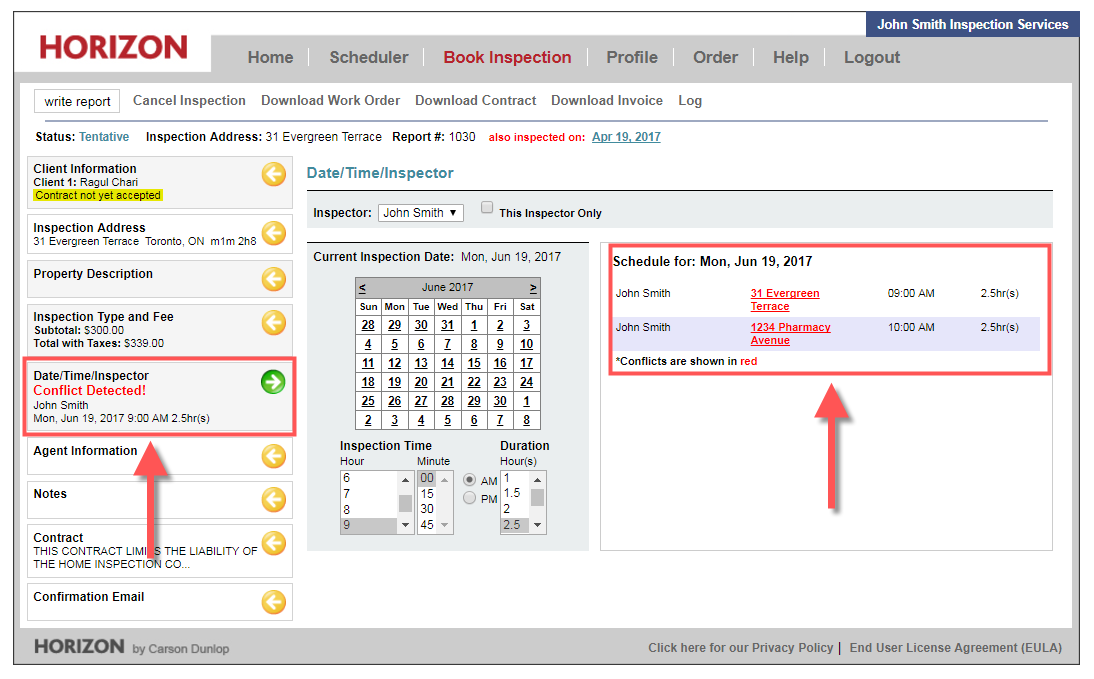 2) We can see the conflict details in the data entry panel, as the addresses show up as red links.

3) Why are the addresses links? So we can click to move instantly to any other work order!

4) We can resolve the conflict by moving the time date or inspector for either work order.

5) The Inspector's name is assigned by default to the inspector who is logged in. You can assign this inspection to anyone on the drop-down list. (Your list is built in the Manage Inspectors section of the Profile)

6) A client or agent may request a specific inspector. You can note this by checking off the box titled, This Inspector Only.

7) The inspector's name will appear in red in the left panel under Date/Time/Inspector if it is a request.

8) When this inspection shows up on the Scheduler, it will have a red border around it, indicating that the inspection should not be moved to a different inspector.

9) All the inspections for that day are shown on the right side of the larger right panel.

10) We adjusted the inspection time to resolve the conflict and made the inspection a request for this inspector. See Figure 2.

11) The Conflict Detected note is gone, and the inspector's name is in red on the summary panel because it is a request for that inspector. (Figure 2)
Figure 2