ISN/Horizon integration is designed to synchronize work order data from ISN to Horizon eliminating the need for double-entry and streamlining your schedule with Horizon reports.

The following data moves one-way only from ISN to Horizon: Client information; Inspection Address, Time & Date. An ISN account is required.

Setup Inspection Support Network integration:

Ensure you have your ISN Company Key, Access Key and Secret Key.
The ISN Company Key is Company-specific(ie. Pro-inspections Ltd.). Multiple users in your company will use the same Company Key.
ISN Access Key and ISN Secret Key are User-specific. These are unique per inspector and can be obtained within their ISN account settings under Settings > My Access Keys.

1. Open Profile > Inspection Support Network. (Figure 1)




2. Enter ISN Key fields then click Save and Back. (Figure 2)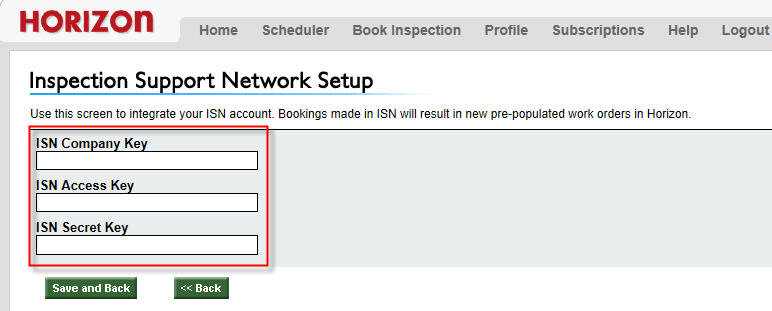 3. To obtain ISN key numbers log into your ISN account click on Settings > Office Settings. (Figure 3)




Important sync information!

Each inspection must be scheduled for the future and ISN "footprint" created for each inspection to sync to Horizon. Footprints can be set manually or automatically within ISN.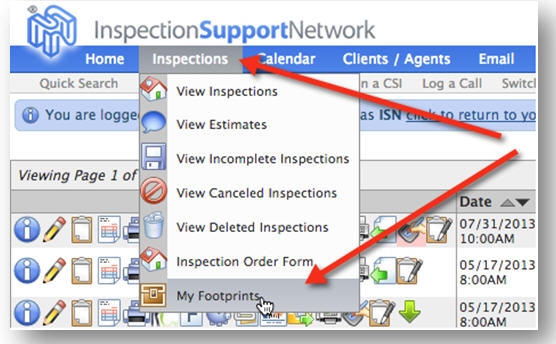 NOTE: ISN accounts that have been Grand-fathered require all old footprints to be set to false. Failure to set grand-fathered work orders to 'false' risk consuming Horizon credits.

4. Click Scheduler or Home to view work orders populated from ISN. (Figure 5)