Did you know that Horizon can help to detect if a client or agent's email address is invalid when you send the Confirmation Email or Report Email? It's super-easy to activate, and can help to reduce communication issues with your customer.

To activate this feature for your account:
1) Open Horizon Profile / Company / Inspectors
2) Click on your name to open the Edit Inspector Data screen.
3) Under Other Access Privileges, check the box for Show Email Bounce Back feature
4) Then click Save and Back.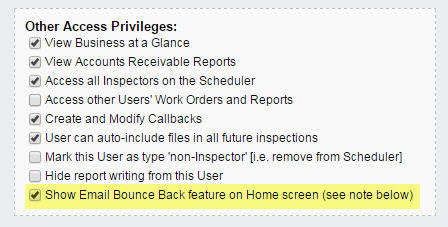 From the Home screen you will see bounced and invalid emails. The address link lets you follow up clients for correct email addresses. Once corrected, you can click dismiss button to remove this notice on your Home screen.

Note (from the Edit Inspector Data screen):
Bounce Backs are messages that come from remote email servers when there's a problem delivering Confirmation or Report Link Emails. This often means that the address is slightly incorrect. The BounceBack warning message is meant to prompt you into action.

When Email BounceBacks are detected you will be notified on the Home screen. Expand the message to view details. Click on inspection address link to make corrections or 'dismiss' the alert completely. BounceBack monitoring is meant to help you make sure your clients get the emails you send them. Both the wording and veracity of BounceBack warnings are inconsistent and beyond our control; we depend on the target email server sending us a response indicating failure when there is one. Sometimes, remote servers don't do that. So the logic is as follows: if there's a BounceBack warning on a particular email address, you should follow up with the intended recipient.