In this short lesson we will cover the Log of Activity which can be found on the Report Publishing page of any report.
The bottom of the Report Publishing screen shows a Log of Activity.
It shows the date and time when Version 1 of this Report was generated. It also shows who generated it.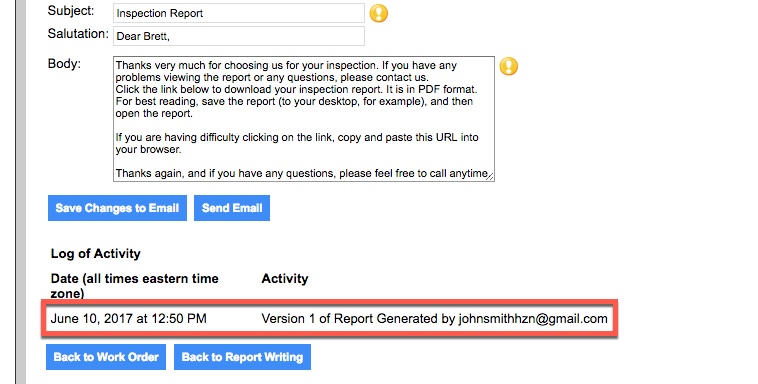 When we go ahead and send the Report delivery email this Log of Activity will change. Let's send the email and have a look.



Version 1 of the Report has been sent to the client – Brett Freeman, and a blind carbon copy (BCC) was sent to the Inspector. The Agent has also been CC'd.

Note: If the Report delivery email does not go through, you will receive a failed delivery notification on your Horizon Home page.

You now know that your Report has been sent and you know the date and time it was sent.

The Log of Activity will also show every time someone opens and reads the Report.
As an Inspector, you will know your own IP address. When the Report is downloaded by a different IP address, you will know that your client downloaded the Report.

This information will always appear in the Report Publishing screen for each Report. Every time someone downloads the Report, you will get an entry in the log.

This is a great way of keeping your Records, and ensuring that your clients receive your Reports.